Reserve online
The ICON Hotel & Lounge, Prague
and save with our discounted rates
CURRENCY: U.S. dollar USD

Euro (EUR)

Pound sterling (GBP)

U.S. dollar (USD)

Canadian Dollar (CAD)

Swiss Franc (CHF)

Yen (JPY)

Australian Dollar (AUD)

Yuan (CNY)

Rouble (RUB)

Rupee (INR)

Czech Koruna (CZK)

Norwegian Krone (NOK)

Danish Krone (DKK)

UAE Dirham (AED)

Brazilian Real (BRL)

Hong Kong Dollar (HKD)

Jordanian Dinar (JOD)

Malaysian Ringgit (MYR)

New Zealand Dollar (NZD)

Omani Rial (OMR)

Kina (PGK)

Romanian New Leu (RON)

Saudi Riyal (SAR)

Swedish Krona (SEK)

Singapore Dollar (SGD)

Thai Baht (THB)

CFP Franc (XPF)

South African Rand (ZAR)

Moroccan Dirham (MAD)

Argentine Peso (ARS)

Taiwan Dollar (TWD)

Kuwaiti Dinar (KWD)

Bahraini Dinar (BHD)

Icelandic Krona (ISK)

Philippine Peso (PHP)

Bermudian Dollar (BMD)

Paraguaian Guarani (PYG)

Brunei Dollar (BND)

Polish Zloty (PLN)

Shekel (ILS)

Mexican Peso (MXN)

Fiji dollar (FJD)

Qatari Riyal (QAR)

Kazakhstan Tenge (KZT)

Belarusian Ruble (BYN)

Namibian Dollar (NAD)

Uzbekistani Som (UZS)

Dobra (STN)

Honduran Lempira (HNL)

Malagasy Ariary (MGA)

Convertible Mark (BAM)

Indonesian Rupiah (IDR)

Colombian Peso (COP)

Tunisian Dinar (TND)

Turkish Lira (TRY)

Vietnamese Dong (VND)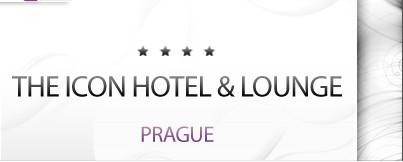 Home > Hotel
The ICON Hotel & Lounge is an upscale facility that offers contemporary, elegant accommodations, right in the center of Prague.

The ICON Hotel & Lounge is a perfect example of what people come to visit Prague for; fashion, entertainment, business opportunities, excitement, and history. Prague is a fabulous city that blends contemporary surroundings with historic beauty in a chic way.

This particular hotel is stylish and sophisticated offering modern amenities in a historical context. Collaborating with Sweden's Hästens beds, the ICON Hotel & Lounge is the only hotel in middle and Eastern Europe to offer these completely natural handmade beds in all rooms.

Zen Asian Wellness is a very well known spa that offers Thai massage and is the perfect place to come to enjoy rejuvenation and relaxation.

The designers of the hotel creatively combined the intriguing historical appeal of the building with a contemporary flare. The 10th century building is a unique destination for an authentic experience in the divine city.

In connection with the Hästens beds from Sweden, the ICON Hotel & Lounge is the only hotel in Europe to feature these original completely natural handmade beds in each of the guest rooms.

This original style hotel offers unusual comforts such as Thai massage, a multi space restaurant, an all day a la carte breakfast, and high design rooms. Come and visit us!!

EAT
The hotel restaurant called ROOM tapas bar & lounge serves selection of traditional spanish and latino-american dishes together with finest wine and other beverages. The restaurant is opened daily from 0700h to 2300h (07am to 11pm) and the bar remains opened until 0100h (01am). Complimentary full a-la-carte breakfast for hotel guests is being served all-day (0700 - 2300h).


MEET
The ICON Hotel & Lounge has meeting facilities that can host p to 12 persons and offers there is contemporary technology to take advantage of.

It is a perfect place to meet everyone around this particular table that was originally part of the famous BATA shoe factory of Zlin, known for its innovative production and management standards. This authentic piece of furniture dates back to the 1930's Czech Republic.

The ICON Hotel & Lounge multi space lounge is ideal for hosting up to 150 persons for conventions, meetings or special events of many types.
Give us your Feedback
The ICON Hotel & Lounge, V Jame, 6 - Prague